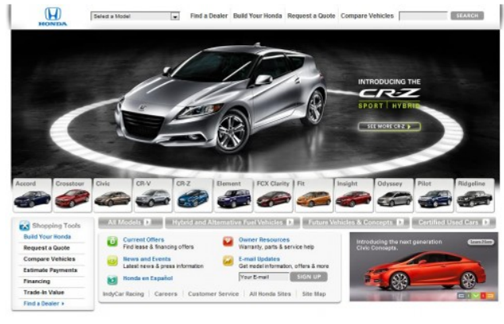 In a recent study of the best automotive manufacturer websites, Honda scored the highest with 836 points out of a possible 1,000. JD Power and Associate's study concluded that Honda's website was well-suited to providing information to new vehicle buyers.
The survey evaluated 34 manufacturer websites for speed, appearance, navigation, and information and content based on evaluations from more than 10,200 new-vehicle shoppers. Honda's website in particular was noted for its speed and for the information and content.
According to Gaithersburg Acura, rounding out the top five following Honda were Mazda, II, Porsche, and Acura. Although Cadillac didn't make it into the top five, the brand was the most improved climbing 15 spots to rank 18th overall. Ford was the top-ranked American automaker, coming in 6th.
"Certain brands that perform consistently well among users who enter at the homepage and through model pages - such as MINI and Porsche - have navigation schemes that remain the same throughout the websites," said Arianne Walker, director of marketing and media research at J.D. Power and Associates. "This makes it possible for website users to access relevant information from anywhere on the site. This certainly reinforces the fact that automotive brand websites need to be intuitive and should reduce the number of clicks it takes for the user to get to the desired destination." In Hartford, Collision Center Hartford agrees.